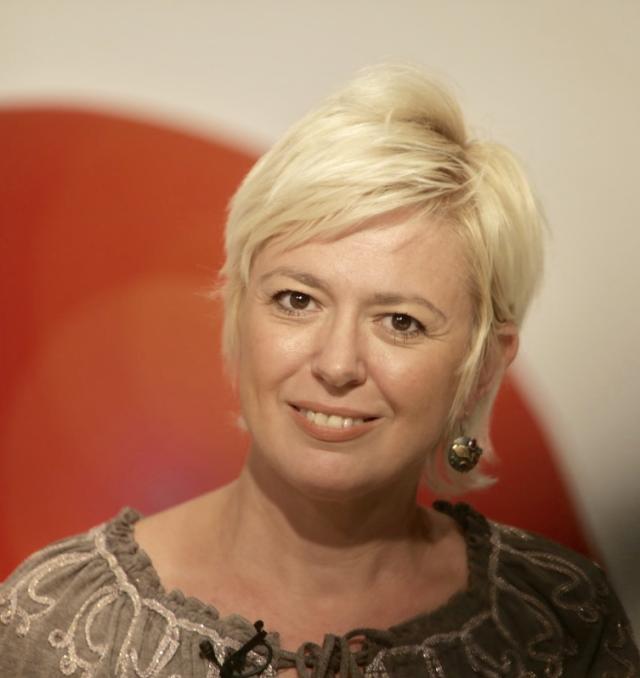 玛丽亚•阿德里安娜•豪斯法特(Maria Adriana Hausvater )
玛丽亚•阿德里安娜•豪斯法特,目前是罗马尼亚戏剧届最重要的导演之一,她导演过丰富的作品,从当代到经典,而后者又是从当今现实的角度去诠释的。1997年从布加勒斯特戏剧和电影学院(现戏剧艺术和电影国立大学)毕业后,她先后在罗马尼亚和摩尔多瓦民主共和国重要的剧院上演过25部作品,其中有奥登剧院,伊西国家剧院,诺塔拉剧院,Cluj国家剧院,布加勒斯特国家剧院,基希纳乌国家剧院,Piatra Neamt青年剧院,雷希查的G.Petculescu国家剧院,普洛耶什蒂的托马卡拉剧院和布加勒斯特国家歌剧院。
她的作者选择—从托尔斯泰,契诃夫,埃德加·爱伦·坡,艾米丽·布朗特,卡拉贾莱,莎士比亚,布莱恩·弗里尔,迈克尔·弗莱恩,阿诺德·威斯克,山姆·夏普德,达里奥·佛到莫瑞·西斯盖—充分说明了她对人,和人的困境的真正兴趣以及用戏剧的手段来研究"讲故事"最多元化的各方面的伟大决心。作为戏剧导演她尤为关切的是在叙事的语境中去探索戏剧的核心然后转化成舞台语言,这也使她成为了罗马尼亚为数不多的专注于将史诗流派中的优秀故事改编成戏剧剧本的导演。
因为认为玛丽亚•阿德里安娜•豪斯法特艺术家应作为社会中活跃且具有高度责任心的成员,她于2005年选择任职于罗马尼亚最重要的剧院之一的蒂米什瓦拉国家剧院经理,以此作为表达她创造力的另一种方式。在她的管理下,剧院的观众增加了10倍,现跻身于罗马尼亚剧院的前三名。Hausvater为蒂米什瓦拉国家剧院的全部演出建立了一套高质量的标准,同时创建了两个新的演出场地(可容纳250人的1号表演厅和工作室,50座的尤图斯特拉加里厅)。她还文化翻新了一座被遗弃的历史建筑—前帝国马场,使其成为2号表演大厅。此外,她将几间专业戏剧作坊重组成为了一家布景设计工厂,这种企业在罗马尼亚是首家。她使蒂米什瓦拉国家剧院在承担公民和社会角色的同时,作为欧洲文化单位,剧目中囊括了艺术表达的新形态和新研究。2012年,她被法国文化部授予"艺术于文学骑士"头衔荣誉。
她的专业经验同时被学术研究所支持。2005-2010年间她读取了戏剧研究的博士,现任罗马尼亚蒂米什瓦拉西部大学表演艺术学院音乐和戏剧系副教授(专注于研究演员和导演间的创意关系)。
Ada Hausvater is currently one of the most important stage directors on the Romanian theatre scene, with an impressive list of staged titles, both contemporary and classic, the latter approached through the filter of present-day realities. A graduate of the 1997 class at the Academy of Theater and Film in Bucharest (today the National University of Theater Arts and Cinematography),she went on to stage over 25 performances in important theatres in Romania and the Moldavian Democratic Republic, such as the Odeon Theater, Iasi National Theater, Nottara Theater, Cluj National Theater,Timisoara National Theater, the National Theater in Chisinau, Piatra Neamt Youth Theater, G. Petculescu" Theater in Resita, Toma Caragiu Theater in Ploiesti, or The National Opera House in Timisoara.
Her choice of authors –ranging from Tolstoy, Chekhov, Edgar Allan Poe, Emily Bronte, Caragiale, Shakespeare, Brian Friel, Michael Fryan, Arnold Wesker, Sam Shepard, Dario Foto Murray Schisgal - illustrates an authentic interest in man and his predicament and also great determination to research the most diverse aspects of storytelling with the means of the theatre. One of her primary concerns as a stage director has been to explore the core of theatricality in the narrative discourse and to translate it into the language of the stage, which makes her one of the few directors in Romania specialised in writing theatre scripts based on great stories of the epic genre.
Inspired by the understanding of the artist as an active and highly responsible member of the community, as of 2005, she chose to occupy the seat of manager of one of the most important theatres in Romania, Timisoara National Theatre, as another way to express her creativity. Under her management, the theatre's audiences have increased almost 10 times while the National Theatre of Timisoara in currently in the top 3 of Romanian theatres. Ada Hausvater established a high qualitative standard for all theatre productions of the Timisoara National Theatre and managed the creation of two new theatre venues (Sala 1 – 250 seats and Studio "Utu Strugari" – 50 seats), as well as the cultural reconversion of one abandoned historical building: the former Imperial Manége (Sala 2). She also reunited the professional theatre workshops into one Set design factory, the first enterprise of its kind in Romania. She included new modalities of artistic expression and research in the repertoire, while bringing to the fore the important civic and social role of the Timisoara National Theatre in the community and as a European cultural institution. In 2012, she was honoured for her endeavours with the title Chevalier des Arts et des Lettres, awarded by the French Ministry of Culture.
Her professional experience is also backed by thorough academic research, since between 2005 – 2010 she earned a PH.D. in theatre studies and she is currently Associate professor of the Faculty of Music and Theatre, Department of Performing Arts of the West University of Timisoara, Romania (focusing on the creativerelationship between actor and stage director).